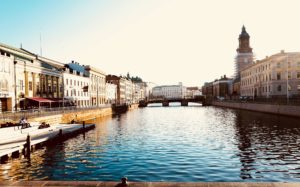 I visited Gothenburg in Sweden for the first time. I still remembered my friend told me I should visit Gothenburg seven years ago. I did not know much about Sweden at that time other than IKEA. It was not a country I aspired to visit. In fact, back in 2011, I have never been to Europe before. After seven long years of pondering, I finally decided 2018 is the year I will go to Sweden with my family.
After exchanging many messages with my friend about which hotel to stay in Gothenburg, I still could not decide on one. He graciously offered his place for us to stay. This took care of the biggest decision of the trip to Sweden. We did not do much research on the city prior to visiting Gothenburg. I did a quick search on my favorite European brands and did not see that they had stores in Gothenburg. To be honest, I was a bit disappointed. My husband and I both love to shop while we are outside of the United States.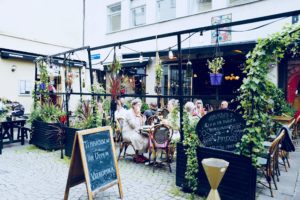 After four airports, cancelled flights, and a few connecting flights, we made it to Gothenburg from Spain. The weather was much warmer than we thought. We expected it to be in the 18 C, but it was more like 25 C. My friend picked us up at the airport and brought us to his apartment. The place was immaculately clean and organized. He gave us the entire space during our five days visit. That was super awesome! On the first day, we visited the fortress at Bohus Fästning. It was a 20 minutes ride north of Gothenburg. It reminded me of castles from the Miyazaki animations. We had fun exploring the ground and the nearby views from the observation tower. The kids had a sword flight and tried on some medieval helmets and armor.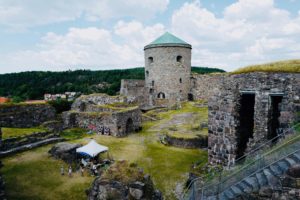 Then we headed 30 minutes west to Marstrand. After a very short ferry ride, we arrived at Forstress Carlsten. It was magnificent and surrounded by beautiful houses on the island. There is a truly true and interesting story about prisoner No. 90 who was imprisoned on this fortress. His name was Lasse-Maja (read why).  We had lunch at a restaurant near the harbor. The seafood was amazing. We then ventured out to the "beach." In California, we are used to fine and soft sandy beaches. I was surprised to see the rocky beach and the fact that you practically had to jump off the cliff to get into the water. My husband and sons jumped in with the Swedish! They described the water as crisp and refreshing. It was a beautiful deep blue ocean. I was amazed at how fast the Swedish change into swimsuits in public without any restrooms. They changed out of their swimsuits and back into their clothes just as fast.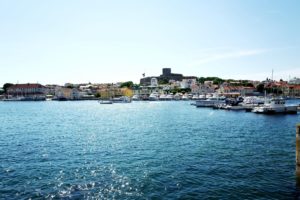 We also took the kids to Liseberg one day where they can enjoy themselves with other children. It's a good size park with attractions for various age groups. The wait for the rides was only about 15 to 20 minutes which is very nice compare to other amusement parks we have visited. The flowers are in full bloom and the landscaping was beautifully designed within the park. I thought it was very clever to give out giant candy bars as prizes for games. The winners were like walking advertisements for the candy brands. We went to Liseberg on a weekday to beat the crowds. We ended the day with an outdoor Swedish BBQ with my Swedish friends at a park. The food was delicious and the kids had fun playing in the park as well. The neighborhood was very quiet. I was told most Swedish have headed to the ocean or on vacation during the summer time.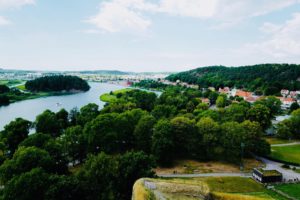 On the third day we took the ferry out to Styrso and had a picnic by the waters. My husband and my older son jumped into the water with my Swedish friends for a swim while my younger one ran around the rocks and collected seashells. He joked that he was working on his ninja jumps. After walking 25 mins across the island back to the ferry stop, an elderly couple on a golf cart caught up to us and asked if I was missing a jacket. It turned out I accidentally dropped it when we left the beach. The ferry was arriving in less than 10 mins, I did not have time to run back to get it. After seeing my disappointment, the elderly couple offered to drive me back to get the jacket. I made it back less than 1 minute before the ferry left the dock thanks to their help.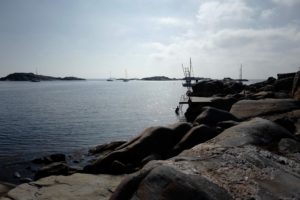 We spent two days shopping and exploring the downtown area of Gothenburg. We enjoyed the home designs from cups to lamps to furnitures. They are smart and efficient. I wish I can bring them all home. We visited Finnish and Swedish clothing brands and loved the design. They are simple yet elegant. My husband and I thoroughly enjoyed visiting the stores and exploring the streets.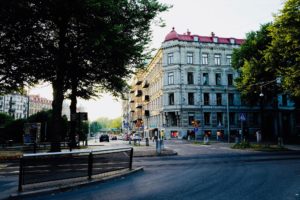 Traveler: Lina Chen with family
Total cost travel (excluding shopping): Airfare $5000 for 4 people. Food/drinks: $1500. Transportation: $400
Highlights: shopping, fortresses, archipelagos, two sauces with every meal, meeting warm and helpful Swedish, and swimming in the North Sea
Airline: Iberia
Number of days: 5 days
Advice / traps to avoid: Get a friend in Sweden that will let you stay at his/her place. That will save you a ton of money. If you drop or forget something on the beach or on a bus, the Swedes will chase you down and return it back to you. It happened multiple times during our 5 days in Sweden.
Ratings: 5