As I child I traveled to Palm Springs with my parents to experience rest, spa and enjoyment during winter weekends. It was cooler along the coast where we lived and we needed to warm our bodies in the dry air. It was easy to get to, just two hours drive outside of Los Angeles stressful city life. We drove through industrial areas, mountains and later the desert barren landscape, watched cement become green hills and flatten out to sand fields and palms until we landed in the little city filled with small and large hotels. Many of them were designed by the best mid-century modern architects like William F. Cody and Quincy Jones. They liked straight lines and triangular forms. It gave a feeling of strictness and rest that suited desert life where water had been poured in to pools and fountains.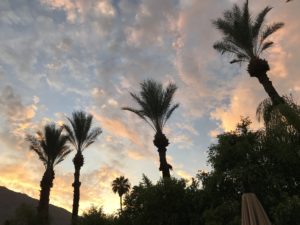 Hollywood stars fled to the area. Glitter powdered the city with its rumoured names and hopes that one might run into Bob Hope, Sony Bono, Liberace or Frank Sinatra on the shopping strip. Their homes were built up in the mountains on James Bond like cliffs and were dangerously exclusive. Cars with good looking youth sporting their tanned skin, oiled with fragrant Coppertone sun products, cruised the shopping strip in their cool convertible sports cars during the evenings.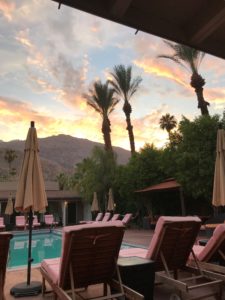 When we finally arrived, our little family would unpack the suitcases outside of the yellow-glowing reception and check in. It was dusk and we were tired after a week of school and work. We children could hardly wait to throw off our clothes, jump in the warm pool water and wash our daily worries away while our parents prepared our rooms, poured themselves a cocktail and felt a little star quality in the evening heat. That's the way it was in the 1960's and 1970's. Palm Springs turned into a sort of economic ghost town during the years between our sweet memories and the early 2000's.
I returned to my childhood playground about 15 years ago. Now it was possible to stay in a few of the old glamorous hotels and sun myself in the afterglow of earlier stars from times past. I sampled and picked through several of them like a box of chocolates and was very happy with many.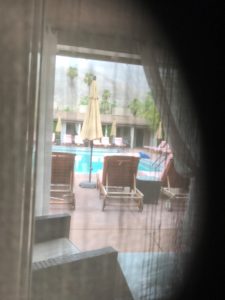 This summer I chose 'Little Paradise Hotel'. A little pearl, snuck into a residential area where several fine, old, mid-century homes had been renovated to shine. The discrete entrance protects from prying eyes but behind the door is fertile treat for reasonable money. Once upon a time, this hotel was a gathering place for lesbians, a precursor to the freedom that the HBTQ population has come to know and enjoys openly, nowadays, in Palm Springs. The hotel has a new owner and the rooms have been furnished with everything one can imagine needing including a kitchen, wine, luxury bathroom products, two sinks, an enormous shower, two outdoor patios, an open fireplace and a TV. Surrounding the few rooms on the property are a variety of citrus trees and guests are free to pick and eat. I picked what I thought was a big, ripe lemon only to find that it was a sweet, juicy tangelo that I slurped and ate with glee right outside my door.
My paradiseAs an adult I always remember my childhood as I look at the mountains. For now I enjoyed the little cosmos that Little Paradise Hotel offered. I didn't need to go anywhere, do anything, tourist or look for historical monuments, even if all of this is at ones fingertips. I lounged by the pool, oiled my skin with the offered products, drank lemon water and dipped myself in the saltwater pool. When I woke up in the morning there was a smokey haze over the mountains and while I took a quiet morning dip it disappeared out into space. During the day, by the pool, black-lined clouds passed and dropped a bit of warm rain. I sunned on, enjoying the rain and later the heat until rest called from my air-condition-chilled room where I continued with a nap against cool sheets.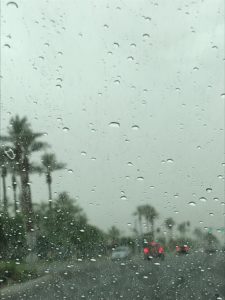 It was time for an act of sunset, a while later, and it treated the onlookers to clementine- sorbet coloured bands, red, orange and night blue against palms and mountain range. I never tired, but sat with my drink for a long, long time until darkness fell and it was time to eat something cool and delicious for the evening. Like a scary good-night tale did Tor sound around the hotel with lightening and thunder and we were told that it would be best to get out of the warm pool that we had snuck into after dinner, for safety sake. The changes in weather were exciting and I saw how black mountains and city were lit time and again from my patio with a view. Everything around me was complete in my little nest. I breathed in and relaxed. Old and new melt together in this nature-wonderful place where during a few days time one can run from phones and musts. Here you can get a little star quality and glitter from behind sunglasses, with your nose in the desert sun and the sky-high palms. Two days luxury in the footsteps of the 1960's is something to come back to and miss. Just bring a little glitter.
Traveler: Ingrid Rodman-Holmes
Total cost travel (excluding shopping): $ 800 for 1 person.
Highlights: Rest, heat and nostalgia.
Number of days: 2 days
Advice: Little Paradise Hotel
Rating for the trip: 5 (the best you can get)